Deputy President (Finance & Services)
Thursday 2 May 2019
Congratulations! It's time to celebrate all the hard work our postgraduates have put in! I've put together a checklist of 'must dos' for the day, based on my experiences volunteering on the day, and also graduating last year.
Your Graduation Checklist:
Pre-Ceremony:
Collect your Gown! Pick up your gown from the Great Hall Level 2 in the Sherfield Building
Caffeinate for the Ceremony! Make sure to stay awake by grabbing a cup of coffee from Shop Extra (located on Sherfield Walkway) before heading over to the ceremony. Said to be "the best coffee on campus" by many students, we also have dairy and non-dairy options available!
Grab your Graduation Gifts! While stopping at Shop Extra for a quick coffee to go, pop over the walkway to check out our Imperial gifts and graduation presents available! Super popular amongst our students, we highly suggest Graduation Hoodies and Bears!
Collect your Tickets! Walk over to the Royal Geographical Society (next to the Royal Albert Hall) to collect your ceremony tickets.
Snap a shot with the Royal Albert Hall! Arrive at your ceremony early to take that classic Imperial photo of you and your gown with the Royal Albert Hall in the background!
During the Ceremony:
Watch the Live Stream!Have extra family or friends who want to see you graduate, but not all of them have tickets? Send them to FiveSixEight in Beit Quad where we will be live streaming all the Graduation ceremonies during the day!
After the Ceremony:
 Attend your Department Reception! Catch up with your graduating class and fellow colleagues at your departmental reception.
 Take your memorable photo! Head to the Beit Quad to have a professional photo taken of you in your gown and cap, either alone or with the rest of your family! 
Get your Merchandise! We have pop-up stalls throughout the day selling Imperial Souvenirs, such as bespoke graduation signet rings, cufflinks, watches and decanters.
 Celebrate with us! Bring your family and join the rest of your friends at h-bar or FiveSixEight! We have great food and drink deals available for you all day to help you celebrate, including a BBQ and the 3 P's (Pimms, Prosecco and Pints!)
Return your Gown! Don't forget to return your gown to the Great Hall, last returns is 8.30pm.
My top choice are the hoodies, super comfy and look sleek! Each customised depending on your faculty, you can find your name and your friends on the back too!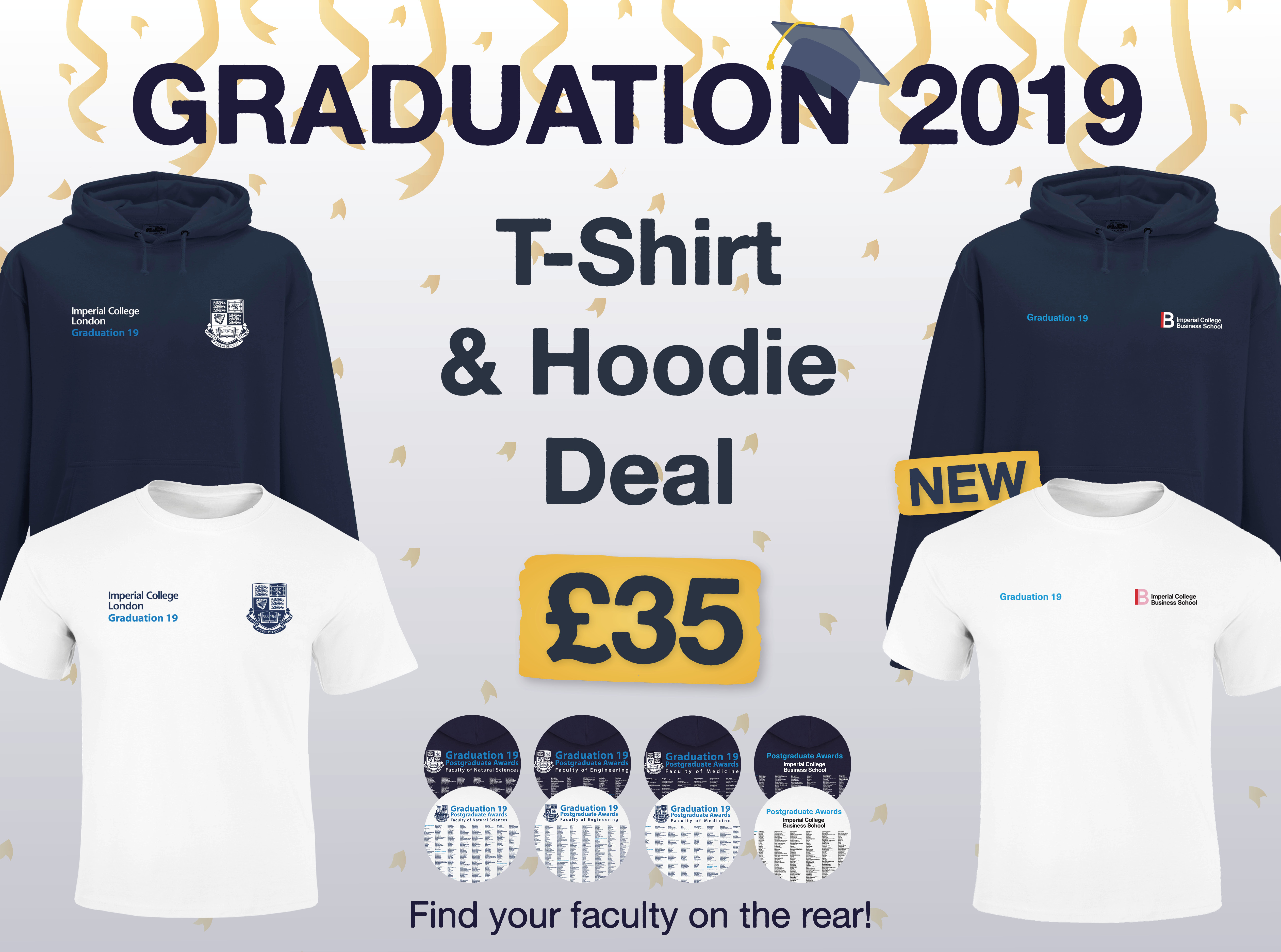 We have lots of gifts for you to pick from too!
Parents super proud of you and want to show off that their child went to the world famous institue that is Imperial College London? Have children, nieces, nephews, etc that also want to rock the Imperial brand? We have t-shirts and jumpers available for all!
There are also a lot of luxury gift options available, perfect if you want a long-lasting gift for life to remember your time at Imperial by!
These are just some of my favourite gifts we have! Visit the shop to see our whole range and find the perfect item to remember your graduation by.
Both are located on the Sherfield Walkway, outside on the same level as the Great Hall.