What is Representation?
Student Representation is a crucial and invaluable tool that enables the student community to shape their experiences and the Imperial institution as a whole. Whether it's ensuring the air conditioning in your lecture theatre works or scrapping the late submission = zero marks policy, Student Reps play a vital role in ensuring College staff understand the needs of students studying at Imperial.
Our Networks
Imperial College Union operates two Representation Networks of over 600 elected student representatives – the Academic Representation Network and the Wellbeing Representation Network. The two Networks represent students at Imperial in different areas which are outlined in our Rep Pathways Diagram: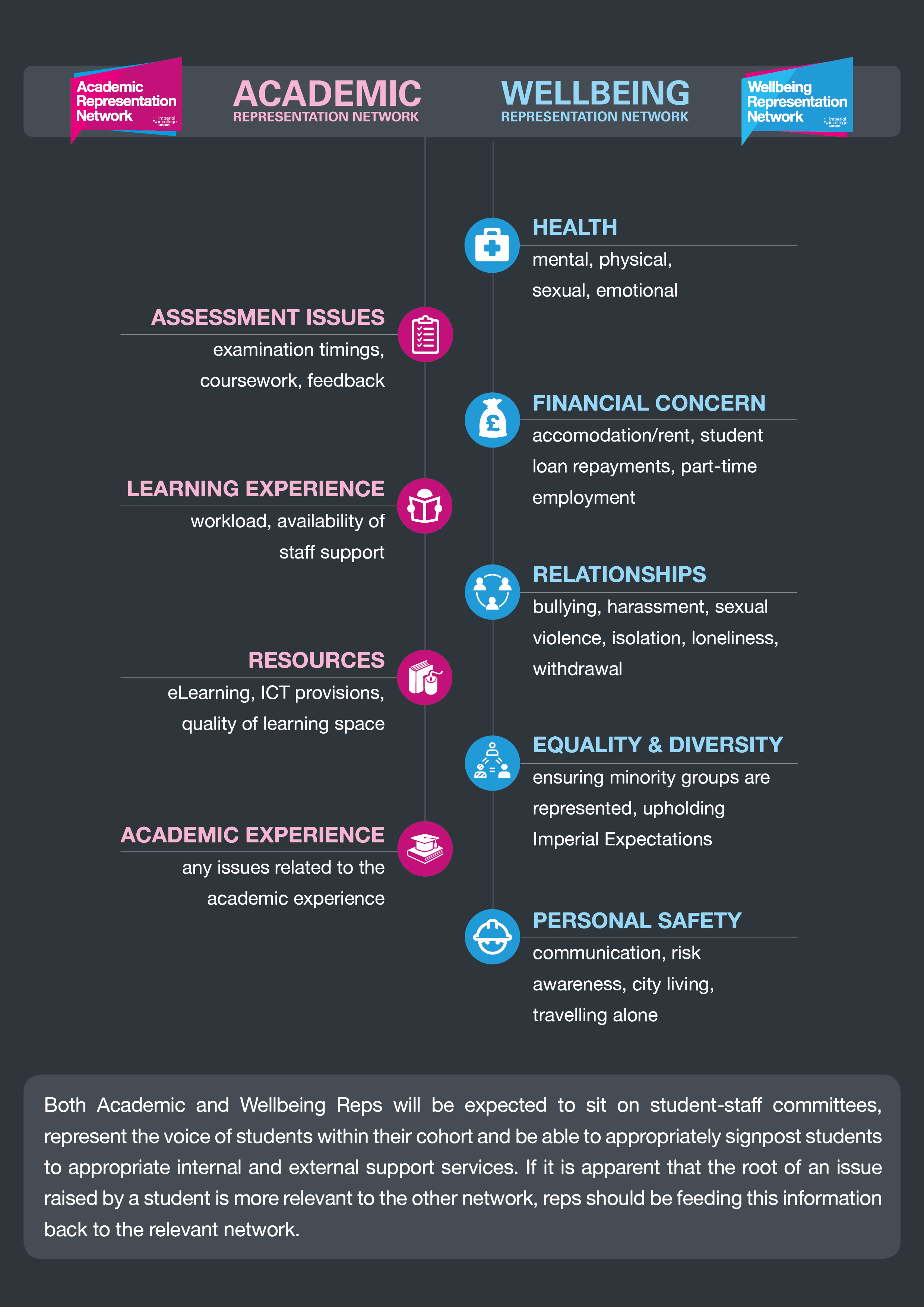 Academic Representation Network Areas
Assessment issues: examination timings, coursework, feedback
Learning experience: workload, availability of staff support
Resources: eLearning, ICT provisions, quality of learning space
Academic experience: any issues related to the academic experience
Wellbeing Representation Network Areas
Health: mental, physical, sexual, emotional
Financial concern: accommodation / rent, student loan repayments, part-time employment
Relationships: bullying, harassment, sexual violence, isolation, loneliness, withdrawal
Equality & diversity: ensuring minority groups are represented, upholding Imperial Expectations
Personal safety: communication, risk awareness, city living, travelling alone
Raise Your Voice!
Becoming a Student Representative is a fantastic opportunity to gain skills and experience in several areas and, most importantly, represent students' views within your year or department!
Increase your employability – Reps gain skills in high demand from employers such as leadership, negotiation, meeting experience and team-work.
Network & Socialise – being a Rep is a fantastic opportunity to get to know fellow students and staff within your course, research area, department or faculty!
Make an impact – the feedback our Reps gain from students has a real, tangible impact on individual courses, departments and the Imperial community as a whole.
Be recognised – the College really values the work of Student Reps whose contributions can be recognised through President's award, a Union award or Colour from their Constituent Union!
Interested in becoming a Rep?
Think that being a Student Rep is for you? Make sure you check out the Role Descriptions for Academic Representatives and Wellbeing Representatives. Recruitment for Undergraduate Year Reps, Wellbeing Department Reps, Postgraduate Course/Group Reps, GSU Academic & Welfare Officers take place in October.
Contact Details
If you have any questions please get in touch with: