Our Vision
We want to enhance the educational experience and development of all postgraduate students (Master and PhD) across all campuses. As one of the constituent unions we make sure that the voice of postgraduate students is heard by both the Union and the College.
Every action we make as a Graduate Student Union is guided by our values identified by Imperial College Union: LEADERSHIP - PARTNERSHIP- DEMOCRACY - INCLUSIVITY
About – What is the GSU?
The Graduate Students' Union (GSU) is the representative body within the Imperial College Union for the postgraduate community across all Imperial campuses. The GSU President speaks on behalf of all postgraduates at important College working groups and decision-making bodies. The GSU also works alongside Imperial College Union President to ensure that the diverse needs of postgraduate students are being addressed. The GSU also holds the College and the Union accountable so that postgraduate' social and recreational needs are met and holds a number of events during the year – check out our list of yearly events
Postgraduate students at Imperial are at the forefront of the research and the experience they have as a student should be the best. Therefore, at the GSU we ensure that College and the Union make constant improvements for postgraduates (and you'd be pleasantly surprised how much goes on behind the scenes to do this!). The work we do focuses on the academic, welfare and social needs of postgraduates.
Committee structure
All committee members are students studying in a Master's or PhD program who volunteer for the GSU in their free time. The committee is organised in four teams and we also have contact points in each of the major campuses:
Education and Welfare: Faculty representatives for the research and teaching branch are important connection points between the PG Rep community of each faculty and the GSU.


Communications: This team of creatives promotes all our GSU activities and provides regular content for the website, newsletter and Felix.


Activities and Events: Busy bees in this team make sure the GSU offers a wide range of exciting events and cooperate with Imperial College Union team to make them happen.


Sponsorship: Thanks to them the GSU receives internal and external funding for all our activities, and they make sure our bills are paid and funds are spent correctly.


Campus officers (Hammersmith, Silwood, White City): The GSU wants to expand activities to involve students from all campuses. The campus officers are the connection points to channel information across all Imperial College sites.
Here you can see our committee in one quick overview: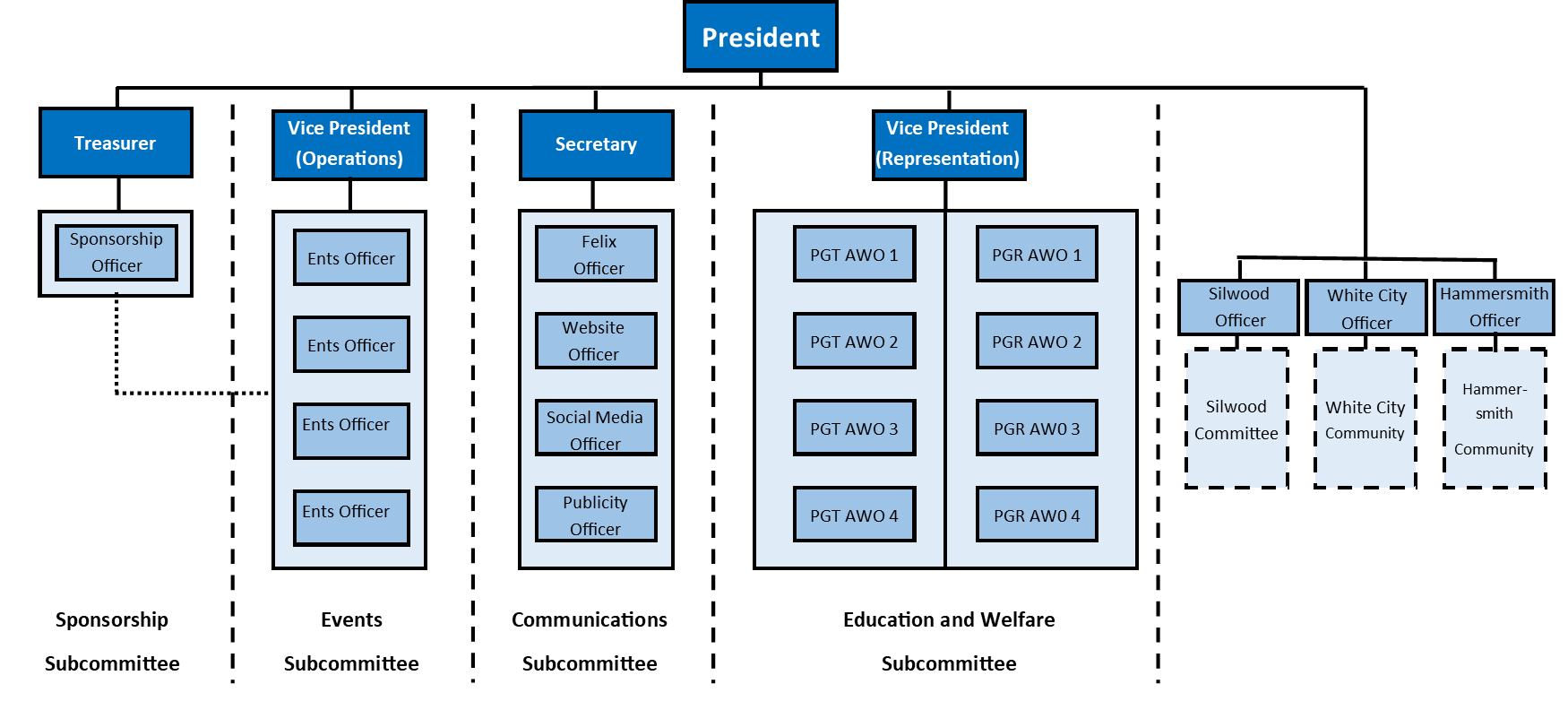 Get involved
All roles are well defined but also flexible; at the end, we are a team. Our elected officers help where there is a particular area of interest…or crisis! Remember, you don't have to be an official committee member to help out either, if there's something you'd like to organise or change on a short-term basis, working with the GSU is fun and teaches a lot of transferrable skills!
 Whether you are a Masters, MRes or Doctoral Research student, you are automatically a member of the GSU. If you have any questions or would like to find out more, please get in touch by emailing: Zixiao, GSU President.
 In this vein, we take this opportunity to thank you for voting for us and look forward to serving you and ensuring your postgraduate experience is a well-rounded and happy one!
If you are interested in joining the committee, you can stand in one of three yearly Leadership Elections advertised on the Leadership Elections webpages. 
GSU in Felix
Every first Friday of the month, we now have a monthly 'Postgraduate' column in the Felix newspaper for various stories and articles around the postgraduate community. We also have our own postgraduate online category on the Felix website. If you'd like to write about something about your experience, your community, or anything else of interest to other postgraduates, we would love to hear from you. 
All Felix editions are available under felixonline.com. Find here some examples of our first 'Postgraduate' columns.
All our events are advertised on our Twitter and Facebook account, as well as in the regular newsletter to all postgraduates, sent by the GSU President. We try to create yearly events with diverse topics which reflect the interests of our postgraduate community. 
IC Data Challenge (date coming out soon)
If you have more ideas or would like to help to organise specific events, let us know! 
Contact Details